http://www.buyolympia.com/krsnew/Item=KRS533 San Francisco's Grass Widow quickly won my heart with their 2008 self-titled LP on Make a Mess Records, which I did not think was possible to top. After announcing their follow-up LP Past Time would be released on Kill Rock Stars, I should have imagined that great things would happen. Past Time is my top favorite album of 2010, with a really quality recording that does justice to their killer harmonies and melodic weirdo-garage tunes.
Listen to Shadows.
Big Eyes upcoming 7" and LP on Don Giovanni
Full disclosure: I played in a band with Kate. Okay, now that we're over that, Big Eyes is one of my favorite local bands. They, along with other friends and great musicians Laura Stevenson & the Cans, announced their addition to the Don Giovanni Records family last month. Look out for a new 7" from Big Eyes, including my favorite jam, "Why Can't I" in January 2011, with a full-length to follow. Watch "Why Can't I?" live at the Knitting Factory: http://www.youtube.com/watch?v=7uMYjjBCnY4 or check out the "Since You Left" Pink Couch Session: http://www.ifyoumakeit.com/video/big-eyes/since-you-left/
Screaming Females - Daytrotter Session
New Jersey's Screaming Females is one of the hardest working bands in the biz, finally receiving much due attention, after years of self-releasing their records, in the past two years. I've been lucky enough to tour with them and watch King Mike get at least one ill-advised stick-n-poke tattoo by the hand of Marissa. They recently did a Daytrotter session including one of my favorite tracks, "Zoo of Death."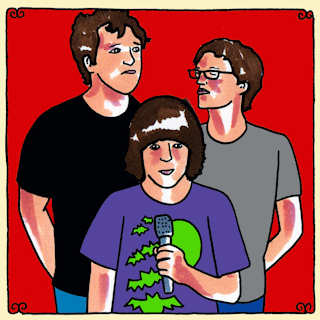 Appropriately, I've been listening to a lot of Beatles records lately. "Yer Blues" is perfect for anyone suffering from seasonal depression, or who generally enjoys wallowing.
---
Is there anything that we missed this week? Let us know in the comments. Next Monday's post will be by Katie Crutchfield of P.S. Eliot. Stay tuned!