Buy This
1994! - FCKYRHED LP
we're on tour with 1994! right now. it's awesome to watch people react to them night after night. it's as if they're completely dumbfounded and intrigued by what's going on, and no one seems to ever expect it. as soon as mike starts warming up, hitting the drums louder than most band even play, peoples' heads collectively turn, stare, and look genuinely concerned. it's incredible. mike and chris play such concise, technical punk with the fury of the various blizzards we've driven through thus far on said tour. their latest full length is their best yet, and you can buy it from either square of opposition or inkblot right now.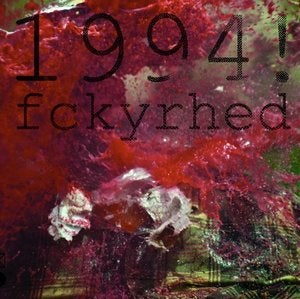 Download This
Hightide Hotel - Nothing Was Missing, Except Me
this record should be called "a serious of unfortunate events." the drum tracks were lost in a fire (for real), the guitars had to be rerecorded three times, vocal parts were lost. pretty much anything that could go wrong during recording a record went wrong for hightide, yet they still won the bet and completed their album before us. this means I owe dave pizza.
Get Psyched On
The World Is a Beautiful Place & I Am No Longer Afraid To Die
our brethren from connecticut. their first ep, formlessness, was probably my most listened to record of last year. snowing has played three shows with them in the two weeks and there is just something so interesting and special about this band. I am so excited to see what they do next.
you can watch all of david lynch's tv monolith on cbs.com. do it.
---
Is there anything that we missed this week? Let us know in the comments. Next Monday's post will be by Nipper Phinizy of Serious Geniuses. Stay tuned!